Click for Oral Presentation programs.
Click for abstract presentation rules of congress
Welcome to International Eurasian Health Sciences Congress IEHSC 2023!
Dear Scientists,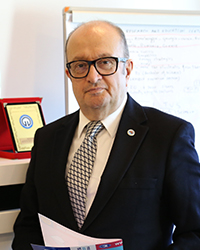 The second International Health Sciences Congress will be successful with the contributions of you, valuable scientists. In line with the purpose of this congress, it was noted in the previous congress, with the feedback received, that ensuring its continuity and gaining a traditional qualification, led to international developments, especially in Turkey, to the provision of education and training as well as research subjects and related developments. In this context, it is our biggest goal to enable an increasing number of congress members and the universities and research institutions they work with to develop joint projects according to their interests under the leadership of Avrasya University.
As the congress organizing committee, we are pleased to invite you to the "International Eurasian Health Sciences Congress (IEHSC 2023), which will be held online in Trabzon on 15-16 June 2023.
Our congress is organized free of charge and online in order to enable all participants to participate actively without being under any financial and moral burden and at the same time without sacrificing working hours.
Dear participants, I offer my respect and love, with the hope that our congress, which will be continued with your efforts and will achieve success, will reach a conclusion that will make us all happy.
Prof. Dr. Yavuz ÖZORAN
Congress Chairman
Congrees Information
Name of Congress: 2nd International Eurasian Health Sciences Congress
Short Name : IEHSC 2023
Date of Congress: June 15-16, 2023
Venue: Online Congress – Avrasya University, Trabzon, Turkey
Language : Turkish and English
Congress Participation Certificate: All participants will be given a "Participation Certificate" at the end of the congress.
Participation Fee: Free
Invitation Letter / Permission Letter: Invitation letters to be requested to be given to the institutions for congress participation will be sent to the participants who want it through the congress secretariat. Such invitation letters can only be used for permission purposes.